It is much more simple to make bread at home than you think. All you need is a good recipe. This is a good one and it is also a simple one. Believe me, I tried many recipes and now I am sticking to this one when I want to make bread.
I do not recommend buying any bread making machine. I did have a bread making machine once, but I was not happy with the baking at all. It was not strong enough. It was nice that it mixed the dough for me, but in this recipe, you don't need to knead the bread for long, so it really doesn't matter. You can make amazing bread in the oven. I do suggest to look for a good size ovenproof dish that has a cover and its size and shape is good for the bread. I use a 23 cm diameter round cast iron this that is 10 cm high.
This is a good dish, if you are looking to buy one: cast iron dish.
I even encourage you to make sourdough starter instead of yeast for your bread. Sourdough is the traditional way to make bread and it is much healthier than using yeast. It does need some extra preparation as the starter takes min five days to develop. If you don't want to make a sourdought starter, you can use yeast as well. It will be still a very delicious bread.
How to make bread at home?
Let me explain it to you:
Sourdough Starter:
Day 1 – Combine 3 tablespoon water with flour in a jar – leave it in room temperature – a fermentation process will start on its own, based on life amazing system and some bacteria. It is important to leave the jar in room temperature to work its magic. I put the lid on the jar, but not close it so it gets some air. The starter will grow, so use a bigger jar.
Day 3 – Add 3 tablespoon water and flour again and stir
Day 6 – Add 100 g flour and 1dl water and stir
Day 7 – Bake your bread
There will be some remains from the sourdough. You can store it in the fridge and repeat the process from day 6 to bake another bread.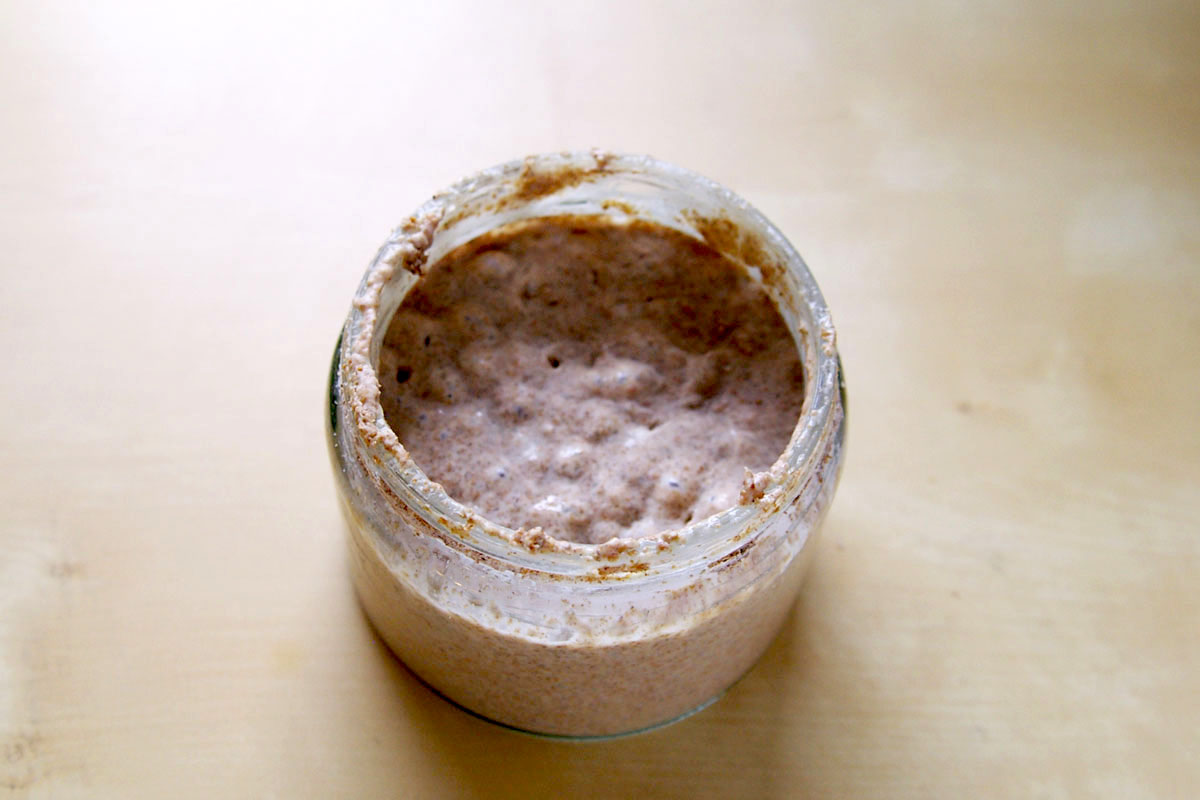 Homemade sourdough bread
makes 1 loaf
500g bread flour (in the video it is dark rye)
100g sourdough starter, recipe above (if you don't want to use sourdough starter, use 1 packet of dried yeast)
3-4 dl water
1 teaspoon salt
seeds (like sunflower seeds, flax seeds, pumpkin seeds)
1. In a large bowl combine flour, starter, water and salt until just mixed together.
2. Cover with cling wrap and leave overnight for at least 8 but preferably 12 hours.
3. Form your loaf. Place a generous amount of flour on your kitchen counter. Scoop dough out onto the flour. Gently fold the edges from the outside in to form a round loaf. Let it rest until the oven and the dish gets warm.
4. Place a large ovenproof dish with a lid in the oven. Preheat oven to 200C and heat the dish for around 1/2 hour.
5. Carefully remove the hot pan from the oven. Remove lid. Sprinkle a little semolina or flour in the base of the pan. Gently place the loaf in the pan inverted so that the rougher surface is now on top. Don't worry about smoothing it out or having it centered – it will work itself out in the oven.
7. Pop the lid back on and bake for 30 minutes.
8. Remove the lid and bake for a further 15 minutes until the loaf is deep brown.
9. Cool on a wire rack uncovered.